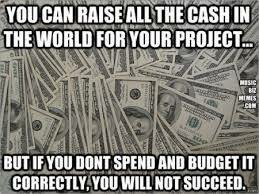 Just recently someone asked a question of us on Facebook "Why do I keep expecting a different result when I keep doing the same thing?" We thought she was having a laugh, in fact she may well have been, but we actually had an answer!
Insanity: doing the same thing over and over again and expecting different results.
This is our expereince with many small business owners. They know their stuff, they've succeeeded before but then they become stuck. Why? Because they keep repeating what they had done before in order to try to repeat the previous successes.
Face it people, we are in business, we aren't shampoo, so the lather, rinse, repeat cycle will work, but not indefinitely.
Certainly when you get great results for your business there is a time period when repeating your actions will continue to deliver results. If you arent monitoring your results though, you will fail to notice the falling success and the lessening of the sales. One morning you wake up and realise that you are now in crisis mode and you cant figure out what went wrong.
So how do you combat business insanity?
Business success comes when you have an accountability partner. Someone who is looking at your business from the outside in! Its well documented that accountability can deliver you from the ordinary to the extrodinary. Don't just take our word for it:
"accountability should be the guiding principle for entrepreneurs who seek to change the world, as well as for employees who want to stand out above the rest" Martin Zwilling – Forbes.com 
"In the weakest teams, there is no accountability; in mediocre teams, bosses are the source of accountability; in high performance teams, peers manage the vast majority of performance problems with one another" Joseph Grenny – Harvard Busines Review
"personal accountability is a critical step towards improving leadership. When people are accountable for their own decisions, work, and results, the effectiveness of an organization can greatly increase" Jeff Fenter – Spectrumbuilt.com
"An accountability partner is a business peer who helps you grow your company by offering guidance and by holding you to your commitments" Stephanie Vozza – Entreprenuer.com
However, you may not be in the position to afford some of the worlds top mentors. You can still get great results with a local mentor and coach.
They will help you:
Understand why results have changed
Show you how to adapt, quickly, to your changing market
Understand your passion for your business and engage in helping you succeed
Hold you accountable, its not about fault or blame but about solutions
Find out what you don't know that you don't know!
If you are struggling with your success and need cash flow to survive and find your ideal accountability partner contact sarah@invoicefunders.co.nz who can, with over 20 years small business experience, gude and help you to get the life you want and the cash flowwing through the business veins once more.
Invoice Funders – much more than cash flow.